The asking price you set for your home significantly affects whether you will profit in the sale, how much you will profit and how long your home will sit on the market. We are very knowledgeable of the overall market and what's selling – or not selling and this will be invaluable in helping you determine the price. The objective is to find a price that the market will bear but won't leave money on the table.
Pricing a home for sale is as much art as science, but there are a few truisms that never change.
Fair market value attracts buyers, overpricing never does.
The first two weeks of marketing are crucial.
The market never lies, but it can change its mind.
Fair market value is what a willing buyer and a willing seller agree by written contract is a fair price for the home.
Values can be impacted by a wide range of reasons but the two largest are location and condition. Generally, fair market value can be determined by comparables – other similar homes that have sold or are currently for sale in the same area.
In a perfect world, your home's value would be everything you think and need it to be. Perhaps you have specific financial goals or you've just made an offer on another home that's is dependent on selling your home at a certain price in a given time frame. However, simply put, your home's value is not determined by you, but by what the market is willing to pay for it at a given time.
These days, the market increasingly includes home buyers who have researched property values over the internet for months, have already viewed at least 10 homes, and are not under any pressure to buy. Indeed, they may be quite hesitant in hopes of missing out on one of those unbelievable deals that continue to pop up.
In trying to determine your home's true market value and, as such, set your expectations for what you're likely to sell it for, you should:
Try to be impartial. Unfortunately, the market is not interested in what you originally paid for your home, or how much you need to sell it for to buy your next home and meet your financial goals. In addition, your home may have features that you highly value, but which might actually reduce its market value by limiting the number of potential buyers.
Remember why you are selling. Do you want to sell or do you need to sell? Unfortunately, your personal situation may dictate that you take less money than the market would otherwise be willing to give you if you had more time.
Research online and in person. You can find out a lot about your local market through research at websites like REALTOR.com®, the premier online destination for real estate information, as well as by going to open houses in your area and making comparisons with your home in terms of location, size, features and condition.
Time is not on your side when it comes to real estate. Although many factors influence the outcome, perhaps time is the biggest determinant in whether or not you see a profit and how much you profit. Studies show that the longer a house stays on the market, the less likely it is to sell for the original asking price. Therefore, if your goal is to make money, think about a price that will encourage buyer activity .
Sellers often view their homes as special which tempts them to put a higher price on the home, believing they can always come down later, but that's a serious mistake. Overpricing prevents the very buyers who are eligible to buy the home from ever seeing it. Most buyers shop by price range, and look for the best value in that range.
INTELLIGENT PRICING AND TIMING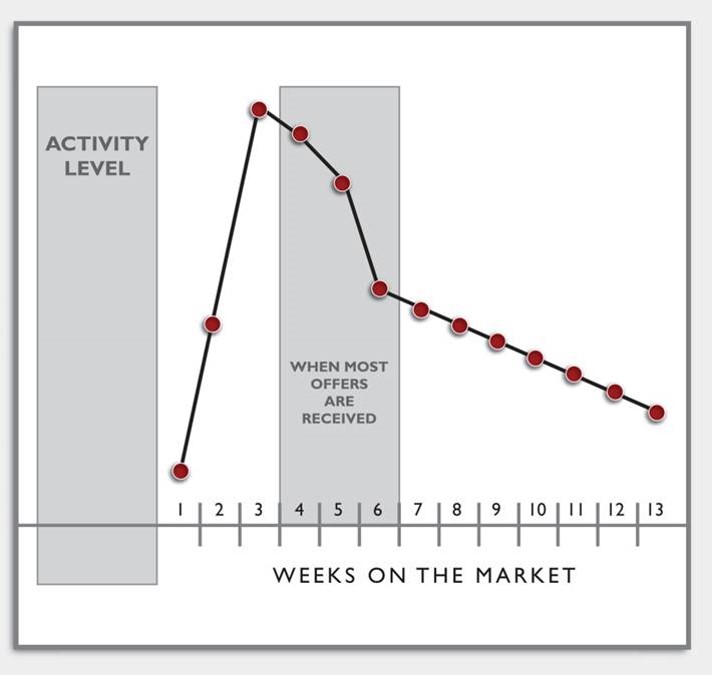 Your best chance of selling your home is in the first two weeks of marketing. Your home is fresh and exciting to buyers and to their agents.
With a sign in the yard, a description in the local Multiple Listing Service, distribution across the Internet, open houses, broker's caravan, ads, and email blasts to your listing agent's buyers, your home will get the greatest flurry of attention and interest in the first two weeks.
If you don't get many showings or offers, you've probably overpriced your home, and it's not comparing well to the competition. Since you can't change the location, you'll have to improve the home's condition or lower the price.
Consult with us and ask for feedback. Maybe you can do a little more to spruce up your home's curb appeal, or possibly stage the interior to better advantage.
The market can always change its mind and give your home another chance, but by then you've lost precious time and perhaps allowed a stigma to cloud your home's value. Intelligent pricing isn't about getting the most for your home – it's about getting your home sold quickly at fair market value.
The Consequences of Overpricing at The Time You List
The strategy of overpricing your home when you list, knowing that you can reduce the price later, might seem to make sense at first glance. However, it seldom works. In fact, sellers who overprice their homes – even just 10% above market value – and then reduce the price one or more times often end up getting less than they would have if they'd priced it realistically from the start
Here's why:
Fewer buyers – even if they're otherwise attracted to your home – will respond to the online and offline marketing of it if they know it's overpriced.
Fewer agents will show your home to their buyers if they know it's overpriced.
The right buyers – i.e. looking to buy a home like yours – may never even view it because they'll confine their search to a lesser price range where yours should be
You'll attract the wrong buyers – i.e those looking in your price range – who won't be interested in your home, having viewed other homes truly worth what you're asking for yours.
An excessive price on your property makes others more attractive – i.e. both those priced where yours is, and also those priced where yours should be.
You'll get fewer – if any – serious offers overall because buyers may consider doing so a waste of time.
Even if you do get a serious offer, the excessive price can lead to a mortgage rejection for the buyer once the lender has a professional appraisal done on your home. This leads to critical lost time waiting for finance approvals that never go through.
Reducing the price after buyers have begun to perceive your home as a stale listing will not generate as much interest as if you'd priced it properly from the start.
The Bottom Line: Realistic Pricing IS Strategic Pricing!
All this is why, pricing your home realistically right from the beginning – to coincide with its window of maximum market exposure so that you can best leverage buyer interest and emotions – is important, particularly in a market like this one. If you do so, you'll not only attract more buyers, you'll attract the right buyers: qualified, motivated and willing to pay top market value for your home at the very time during the listing when you're most likely to get it.
Have questions about pricing and timing the sale of your home? Fill out our contact form and we will get back to immediately.