What is a Loan Estimate?
A Loan Estimate is a three-page form that you receive after applying for a mortgage. The Loan Estimate tells you important details about the loan you have requested. The lender must provide you a Loan Estimate within three business days of receiving your application.
The form provides you with important information, including the estimated interest rate, monthly payment, and total closing costs for the loan. The Loan Estimate also gives you information about the estimated costs of taxes and insurance, and how the interest rate and payments may change in the future. In addition, the form indicates if the loan has special features that you will want to be aware of, like penalties for paying off the loan early (a prepayment penalty) or increases to the mortgage loan balance even if payments are made on time (negative amortization). If your loan has a negative amortization feature, it appears in the description of the loan product.
The form uses clear language and design to help you better understand the terms of the mortgage loan you've applied for. All lenders are required to use the same standard Loan Estimate form. This makes it easier for you to compare mortgage loans so that you can choose the one that is right for you.
When you receive a Loan Estimate, the lender has not yet approved or denied your loan application. The Loan Estimate shows you what loan terms the lender expects to offer if you decide to move forward. If you decide to move forward, the lender will ask you for additional financial information.
What is the Closing Disclosure?
A Closing Disclosure is a five-page form that provides final details about the mortgage loan you have selected. It includes the loan terms, your projected monthly payments, and how much you will pay in fees and other costs to get your mortgage (closing costs).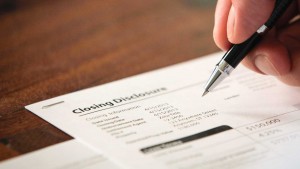 The lender is required to give you the Closing Disclosure at least three business days before you close on the mortgage loan. This three-day window allows you time to compare your final terms and costs to those estimated in the Loan Estimate that you previously received from the lender. The three days also gives you time to ask your lender any questions before you go to the closing table.