Who Gets Paid and How?
Whether you are a home buyer or seller, you're likely to work with a real estate agent for your transaction. Unlike other professionals who bill their clients at hourly rates or present an invoice at the end of a project, real estate professionals are paid at the end of a sales transaction.
Real Estate Agents
Nearly nine out of 10 real estate agents work on commission, and are paid only when the transaction closes. Except for the legal profession, real estate agents are the only fiduciaries and agents who work this way. Commissions are paid according to the terms of two contracts – the listing agreement, and the sales contract.
To simplify how commissions are routed, the real estate industry customarily allows all sales commissions to be paid out of the seller's proceeds, according to the terms of the listing agreement.
Brokers
According to licensing law, only licensed brokers can serve as fiduciaries. They have "agents" or licensed salespeople who work for them, but they have the legal responsibilities of operating the brokerage. The salesperson license allows salespeople to serve as agents of the broker. They can negotiate contracts, but the seller is actually negotiating with the broker, by proxy. It's the broker's company name and signature on the listing contract.
Distribution
Once the home is listed in the Multiple Listing Service (MLS), the listing broker discloses the terms of the commissions to other competing brokers, so they will bring their buyers to the listing. When the buyer's broker presents a contract to the seller, it will include a provision to collect their share of the sales commission, as offered by the listing agent in the MLS.
Commissions are paid according to the terms of two contracts – the listing agreement, and the sales contract. That means a commission can be split as many as four ways:
Listing broker or agent
Listing salesperson
Buyer's broker or agent
Buyer's salesperson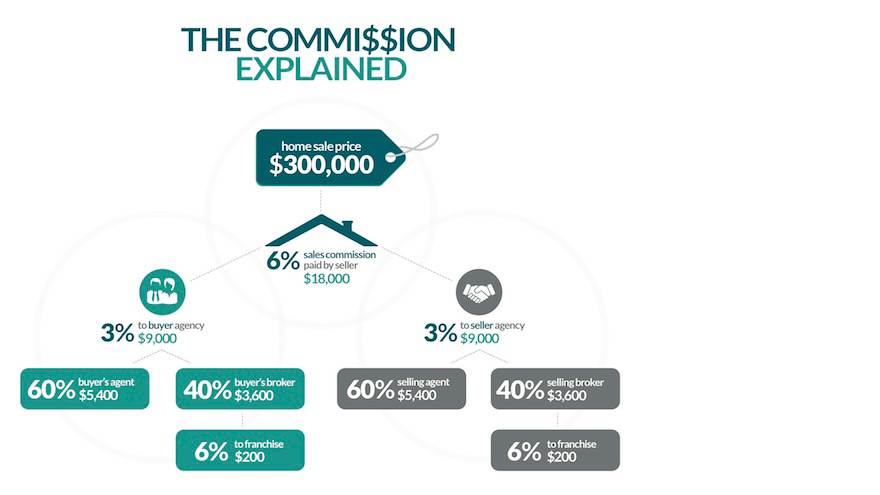 At closing, the listing agent and the buyer's agent are paid by the escrow agent out of the seller's proceeds when the buyer's loan is funded by the lender.
Have any questions about commissions? Fill out our contact form and we will get back to you!